heading to the trade show?
Nimlok North is with you every step of the way.
If you want a full custom trade show exhibit design from a creative team with turnkey services, you're covered. And if you want something simpler, yeah that's here too. It might be a custom modular exhibit for your company's signature show or maybe it's something scaled for smaller events. Maybe it's both!
custom trade show exhibits
get noticed, enhance your brand
Nimlok North excels at developing custom modular trade show exhibits that…
Get you noticed
Drive engagement in your booth
Increase your visibility at the show
Enhance your brand
Help you launch new products
And, well, just make your business shine!
And you can always count on Nimlok North for trade show design ideas and inspiration. With more than 40 years of experience, you have a partner that provides a great perspective on what works and keeps up-to-date with the latest industry trends. This allows Nimlok's talented designers to help you build something truly spectacular.
The best part about custom modular exhibits and trade show booths, though, is that they can be made to function wherever you need them—whether that's a huge convention hall or a tightly-packed meeting room. The modular nature of the exhibit gives you the flexibility to adapt to different settings, in different configurations and sizes.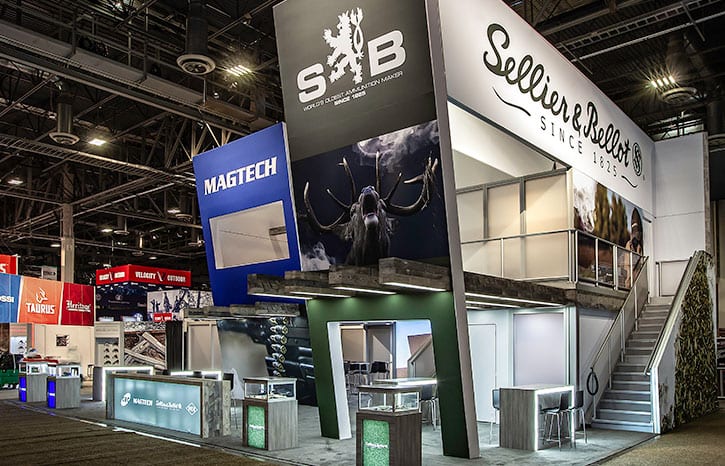 trade show booth rentals
Sometimes getting the right trade show booth means considering a rental instead of a purchase. If you are new to trade shows or only do one a year, renting can save you money and stress. That's why bosses love the arrangement, and most marketers report having an easier time getting internal approval. Plus, you never have to worry about where to store your setup between trade shows.
turnkey support services for your trade show
Your exhibit is the most important part of the show, but it's only one of many things that you'll have to juggle to make sure your trade show goes off without a hitch. Before the show, there is inspection and shipping. At the show, there is assembly. And after the show, there is taking the exhibit down, shipping it out and storing it for the next show.
What about carpet? Electrical? Catering? Need help there too? Nimlok North is a complete solution provider with a full range of trade show services, to help make your trade show (and your life) easier.
Learn more about Pre-Show, Show & Post Show Services
fast and budget friendly display options
Not every client is ready for a full custom modular exhibit. That's why Nimlok North offers fast, affordable trade show displays that you can see in the showroom. These displays are budget-friendly and can be turned around quickly.
wondering which display option works best for you?
Just pick up the phone and call 651.647.0598 or connect online to talk with one of the Nimlok North experts. Can't wait to hear from you!