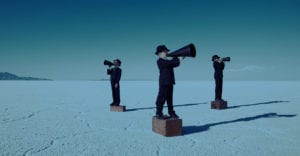 But for now, we need to stay at least six feet apart.
The team at Nimlok MN is social distancing with the best of them. Our employees are working remotely, and the office is empty. Like you, we're closely watching the guidance from public health officials. We're taking it day by day and week by week.
The entire Nimlok MN team is still working hard. We are taking this time to improve our processes, hone our design skills, research new technologies and check in on one another. We are accessible for questions, for future projects you want to get a jump on or if you're just bored and need someone to talk to.
Our employees and clients mean everything to us. Doing our part during this unsettling time is a no-brainer. Staying safe, healthy and reasonably sane is our goal.
We understand that in-person events are probably the last thing on your mind right now, so if you follow us on LinkedIn you'll see fewer images of booths, and more content to help marketers and businesses thrive. That includes ideas and strategies for virtual events and some of the good work our clients are doing to combat the pandemic.  For now, we know everyone has higher priorities than events and tradeshows.
Take care of yourself & your family.  We look forward to catching up with everyone soon.
The Nimlok MN Team