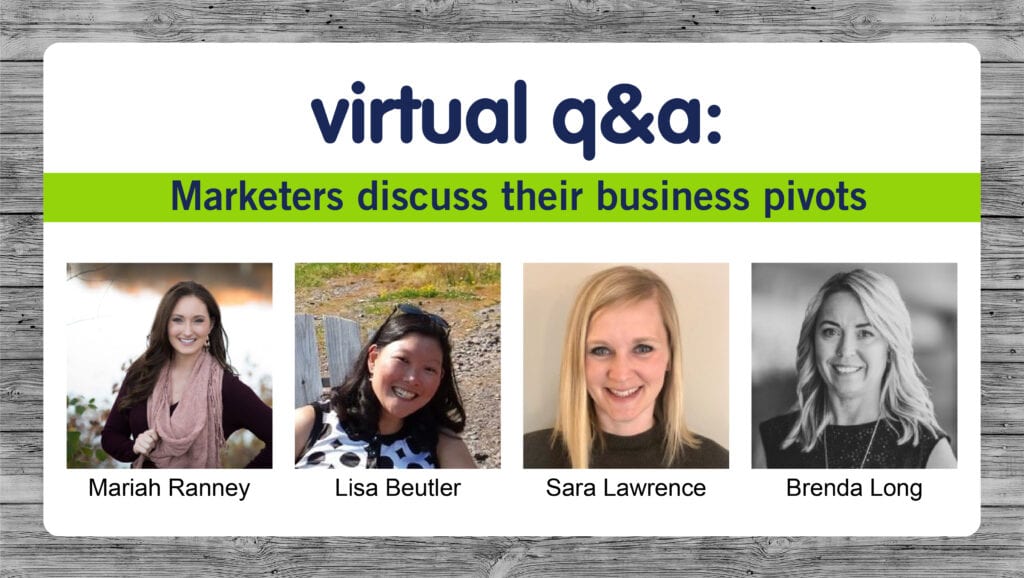 Q2 2020 started off much differently than most businesses envisioned, with most employees working from home, events canceled, and plans disrupted. Marketing teams are working hard to help their brands show up in a helpful and productive way – solving problems for customers and communicating internally as well as possible. We asked four Nimlok Minnesota clients how their businesses are responding to the changing marketplace.
Our Panel
What new problems are you solving for your customers? Are they asking for new, more or different solutions from you?
Brenda Like so many, our staffing firm clients are adjusting to remote working and trying to manage through this crisis. While the technology solutions we provide have always enabled them to work in this way, it simply wasn't how most firms operated. In our training and communication now, we're emphasizing the functionality that will enable them to operate effectively, drive talent engagement and continue putting people to work during such a critical time. This includes
Video Interviewing
Text and email messaging
Automated communication workflows
Paperless e-signatures
Mobile apply, onboarding & time entry
Mariah  We have been deemed an essential business and are working to serve our customers as best we can. There has been a drastic increase in demand for our products, specifically our skin cleansers. Our distributors have also been purchasing in bulk quantities over the past few weeks. We are working together, at a safe distance, stretching outside our usual roles, including nights and weekends, to meet this demand.
Sara  We provide curriculum directly to schools and parishes, so the move to distance learning provided a big challenge for our friends. A number of schools are set up for distance learning, but for most, this was entirely new (and scary) for them. Most of our curriculum is already in eBook format, so we didn't have to make specific product shifts. We really just needed to be there for them and make sure they knew that if they were using our print curriculums, they could also have online access for the rest of this school year for free. The "for free" was the key. No one planned their budget for something like this, and there was no way, in good faith, we could charge them. Everyone was beyond grateful, some even in tears of thanks. It was great knowing that although we can't control what's happening in the world right now, we could control our response.
How have you shifted your priorities in the past two weeks?
Lisa Our priorities have definitely changed in the last two weeks. We recently launched a next-generation radar system and were planning to take it to several regional and international trade shows. Our largest trade show of the year was supposed to be in Amsterdam in April and planning was well underway when we got the cancellation. We have shifted from planning shows to finding new ways to reach our customers. Right now, we are focused on holding webinars and doing virtual events. It has been an interesting way to share our new product.
Sara We thankfully shifted our sales/marketing/customer care team into a cross-functional Ministry Care team over a year ago. With this, we could better serve our customers: instead of selling products, we are accompanying our friends in ministry. Little did we know, we had structured ourselves perfectly for a situation like this: because we aren't just selling books, we are building last relationships. So, for our friends, we were some of the first people they called and we were ready, on the other end to offer support, to listen to their specific situation and to help them find a solution. It wasn't a one size fits all, our team was ready and willing to help each person navigate what they needed and for that, they were so grateful
Brenda There is so much disruption in the staffing industry right now – from how they do their jobs to whether jobs are actually going to be filled. Our priority right now is ensuring we are supporting our clients in any way they need. Our clients are the reason we exist, and we can help them navigate this crisis. Our Covid-19 resources page and our blog are two tools we launched to help our clients pivot.
What's one piece of work (or something you and your team have accomplished) you're most proud of over the past few weeks?
Lisa We quickly put together a webinar series for end users. This was always in our plan, but with our shift to working from home, we moved it up in priority and got it developed quickly. We reached out to all of our partners to help spread the word, and so far, the response has been very positive.
Mariah We had planned to launch a brand new product at the American Academy of Dermatology (AAD) show this year. It was cancelled, so we came together to develop different marketing strategies. Because we are unable to demonstrate this product to dermatologists face-to-face, we are finding different ways to get this new product and marketing materials into the hands of dermatologists, in a way that will showcase our excitement for this new innovation. The collaboration and new ideas have been fantastic.
Sara We've helped get over 150 schools and parishes set up with their curriculum to finish out the school/parish year. This was possible because our entire organization came together to pull materials, get them ready for distribution, think creatively and talk teachers through how to navigate online learning.
How are you thinking about events that would normally be face to face? Where do you pivot to virtual and what do you postpone?
Lisa All of our face to face events have been either cancelled or postponed until later in the year. We have moved to strictly virtual events. We have developed a friendly competition for our channel partners to motivate them to reach out to their customer base and encourage them to attend our virtual events. The partners earn points for every customer they have sign up and attend one our events. The goal is to stay engaged with our partners and reach more end users.
Sara  As a Ministry Care Team, we had already made a huge shift away from events, spending less money on travel and instead using that money to provide deeper content marketing and spend one on one time with friends through video calls. So we were already down to about three very large face to face events a year. We thankfully made it through our largest event before this all hit. We had determined a week or so before everything really started to shift that we weren't sending our team to an April event, that event eventually was cancelled. We're also in a unique situation with face to face events because it's parish staff and teachers who attend these events; even if the restrictions lift, our customers may not have the budget to travel. Our industry may see long-term changes to how we connect and hold events because of the budget and risk implications.
Any advice for people and teams working from home?
Brenda Move! We are not getting up to walk to a co-worker's desk, go out for lunch or move from meeting room to meeting room. Find the pockets in your day where you can get up to move around, go for a quick walk or simply step outside.  Plan those breaks ahead of time to ensure they happen.
Mariah Stay informed, stay healthy, be smart, and know that even though we don't know how long this will last, it will eventually end!
Sara Be present with each other as much as possible. Remember, this is hard work, and you need each other! Use video as much as possible, see people, communicate often, schedule a team coffee break and spend 30 minutes just checking in with each other. If you're a leader in your organization, check in with your people to ask them how they're doing.